If you're interested in reducing air conditioning expenses, improving air quality, and enhancing the comfort of your home in Placer County & the Greater Sacramento Area, Quality Sheet Metal Heating & Air, Inc offers some innovative and exceptional solutions. Give us a call at (916) 238-8746 to hear more about whole-house and attic fans. We've been in the HVAC industry since 1992 and have seen firsthand the effectiveness, value, and benefits of these cost-saving upgrades.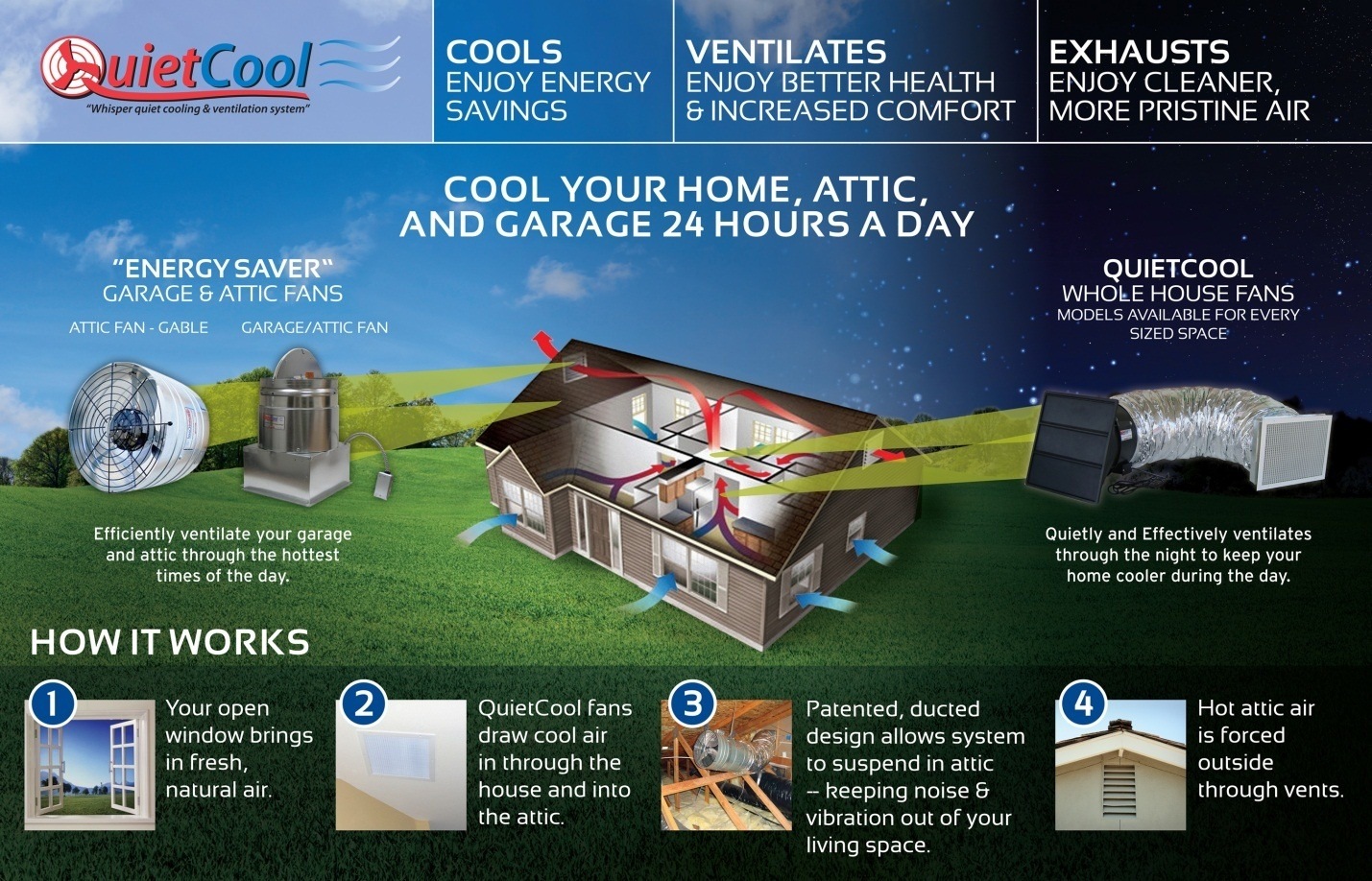 Whole-House Fan Installations & Service
Quality Sheet Metal Heating & Air, Inc is an Authorized QuietCool Dealer, ensuring whisper-quiet ventilation and cooling from your whole-house fan. The system requires less energy than a conventional air conditioner, reduces the workload of the air conditioner and freshens the indoor environment. It works by drawing cooler, outdoor air into the home and expelling warmer, stale air out the attic vents. Start with a free estimate from Quality Sheet Metal Heating & Air, Inc and we'll design the perfect system for your needs!
For whole-house fan & attic fan services, call Quality Sheet Metal Heating & Air, Inc!
Your home may already have a passive attic vent built-in. Attic fans optimize cooling by pushing the overheated air out and drawing in cool air from outside. This process works to prevent hot, sticky air from seeping into the living space, driving up the indoor temperature, and adding to demands on the air conditioner. Quiet and energy-efficient, the operation of an attic fan during a summer day can lower the temperature in the attic by as much as 50 degrees. Always putting your needs first, Quality Sheet Metal Heating & Air, Inc provides whole-house and attic fan services across Lincoln, Loomis, Auburn, Granite Bay, Roseville and Rocklin, CA.
Attic Fan Installation Auburn, CA & Whole-House Fan Installation Roseville, CA
Whole-House Fan Installation & Attic Fan Installation

Roseville, CA, Granite Bay, CA, Lincoln, CA, Loomis, CA, Auburn, CA & Rocklin, CA
Whole-House Fan Installation

∴

Attic Fan Installation ∴ Roseville, CA ∴ Loomis, CA ∴ Lincoln, CA